Gibela celebrates Nelson Mandela's legacy
Every year, on Nelson Mandela Day on 18 July, Gibela reaffirms its commitment to making a positive difference to the future of South Africa. In particular, we share Nelson Mandela's views on the importance of caring for South Africa's children, and have focused our attention on programmes that help children to learn and succeed.
2018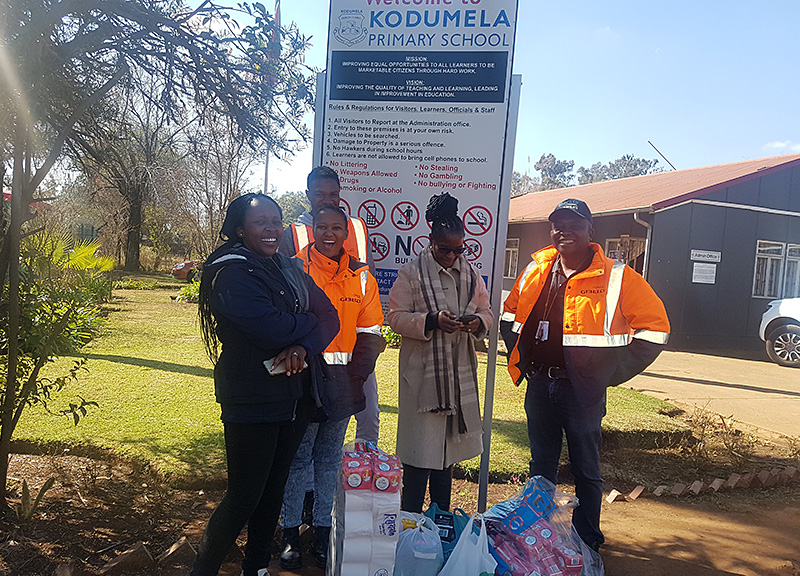 In 2018, as we celebrated Tata Madiba's centenary year, our employees played their part in keeping his legacy alive. Brian Tyebileyo, Gibela's Human Resources Director, was searching for a worthy cause for Gibela to support when he found the Tsakane-based Leth'ukukhanya Care Centre, an NGO that houses orphans and helps child-headed families. The care centre is located in one of one our neighbouring communities.
"At the Dunnottar site, we challenged colleagues to spend R67 or more of their own money to benefit the centre. The response was great. Various non-perishable foods and household items were donated to the centre," said Brian.
Some of our employees based in Dunnottar also visited KwaThema Primary, a no-fee school with 1 200 learners from less fortunate backgrounds, to give it a facelift. Five classrooms were painted and the learners, who mainly rely on the school's feeding scheme, were given sandwiches and treats.
2016
In 2016, our employees visited the Umnyezane Primary School near Nigel, where they donated shoes to 914 pupils, helped clean the school and refurbish the desks. Dr Buyiswa Mncono-Liwani, Economic Development Director at Gibela, said: "Part of Mandela's legacy is the belief that education is a powerful tool that can transform lives. By assisting in the creation of an environment conducive to learning, Gibela is not only fulfilling part of our mandate to support communities but is also contributing towards fulfilling Nelson Mandela's vision."